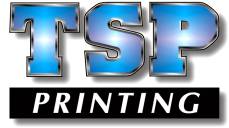 We Provide A Complete Line Of High Quality
Printing Products And Personalized Service
Full-Color Business Cards and All of Your Color Needs
Business Cards
Letterhead
Envelopes
Flyers
Posters
Newsletters

Labels
Banners
Notepads
Business Forms
Brochures
Rubber Stamps
For Your Complete Communications Needs, We Now Offer
Signs, Banners, Website Design And Professional Writing.
Contact Us For Details!
Make a Credit Card or PayPal Payment
Important Notes
Payments are processed securely by PayPal. You do not need a PayPal account.
On the initial PayPal page, please be sure to enter the amount of your payment under "Unit Price".
Please contact us by phone or E-Mail before making a payment.
Send a File by FTP – Please call for details.
TSP Printing
11762 Western Avenue, Unit E
Stanton CA 90680-3483
Voice: 714-894-7771
Fax: 714-894-6654
Send an E-Mail